Standard DCF API
It is possible to purchase access to a complete database of tuning specifications from us. Note: it is not an easy system to integrate. If you do not have extensive knowledge about APIs and don't have a web developer who can familiarize you with APIs, we recommend you do not start implementing the DCF API. We offer our database but do not provide any further support to help users with the integration.

The DCF API database has some nice features:
Free implementation possibilities for websites
Daily, automatic updates
Dyno graphs included
Manage which brands and models are shown
Which vehicle data do I have access to?
Brand logos, models and generations
Tuning specifications
Engine specifications
ECU specifications
TCU specifications
The Standard DCF API
The Standard package contains all brands. The costs amount to €2450,- including a one-year subscription. The price for the subscription for the following year is €450,-.
Access to all brands and the corresponding models, generations, engine types, engine specifications, ECUs and TCUs that are known by us.
Instruction
We offer a REST API, which means that you send the correct HTTP verb to the URLs in our documentation below and you receive a JSON response with the information you need.
We do not offer support to help with the implementation of the API in your website. The API documentation must be simple and easy to use for any experienced programmer who has previously worked with APIs.
You can view the documentation here: https://api.dyno-chiptuningfiles.com/documentation.
Installation
​You will receive an API token and accompanying account after ordering the DCF API from us. The token is needed to verify the server from which you make the API calls.
Is there an alternative option?
Do not worry! We also have a suitable solution for those who do not have extensive knowledge of APIs and still want to use a database: the DCF iFrame. The database but with limited customization options. In this way you can still use a nice, complete database on your website. You can find an example on this website.
Prijs
€2,450.00
Excl. btw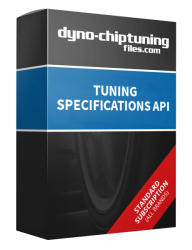 Koop dit product
Log in of maak een account aan als u dit product wilt kopen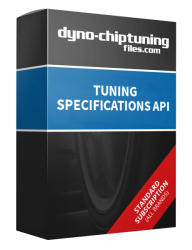 Koop dit product
Log in of maak een account aan als u dit product wilt kopen